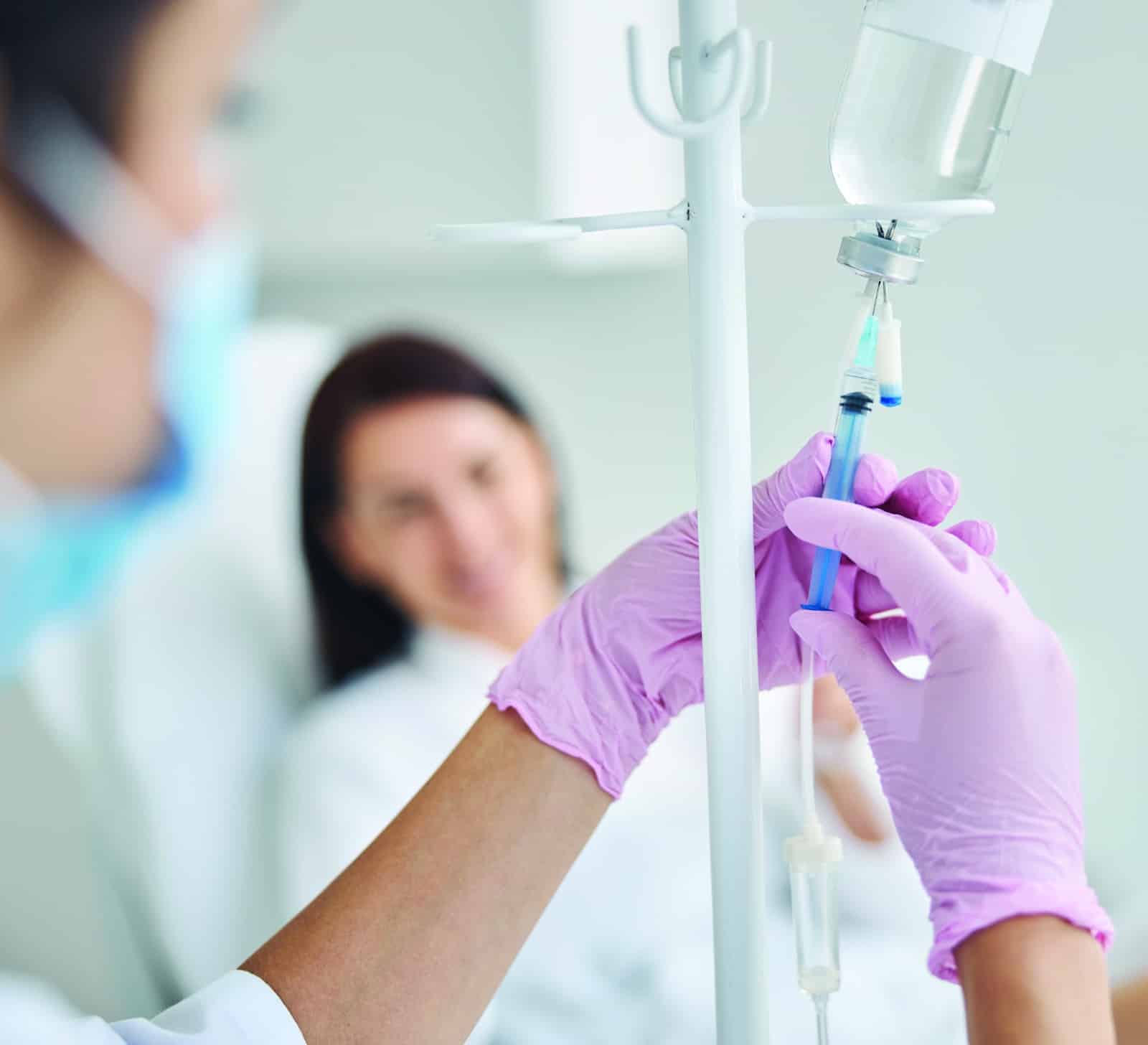 IV therapy is a delivery method for fluid containing vitamins and minerals, or medication. The delivery method allows the therapy to move quickly through your bloodstream.
From dehydration and medical emergencies, to cold and flu symptoms, morning sickness, and hangovers, IV therapy is extremely versatile.
To make your healing journey as effective and convenient as possible, we offer a free consultation to all first-time clients. Simply click the button below and choose an available time slot that suits you.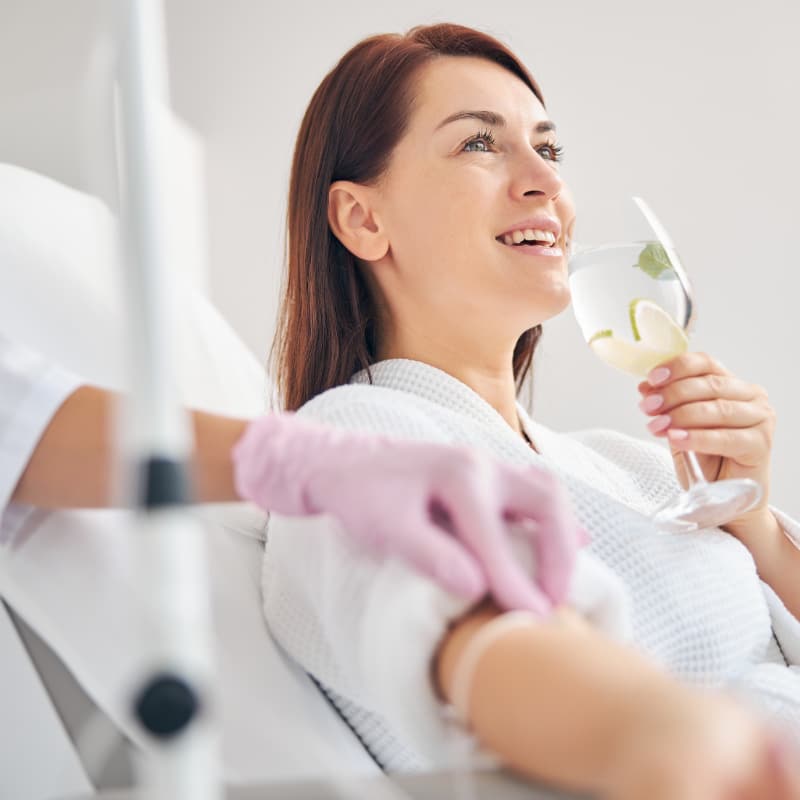 IV therapy is a straightforward procedure. Generally, you will be seated somewhere comfortable for the duration of the therapy.
Our medical practitioner will disinfect the injection site and place a needle directly in a vein. The IV will typically be placed in the arm, but it is possible to be placed elsewhere.
The fluid drips through the catheter and enters your body. Once inside your body, the fluid from the IV bag is absorbed directly into the bloodstream. This method typically delivers medication faster than oral administration.
During the treatment, you can read, watch television or browse on your phone.
What Our Clients Are Saying
"I just completed a series of three NAD+ IV infusions in one month and it made me feel better than I have felt in YEARS! I had been dealing with chronic fatigue, anxiety, brain fog, etc. These healing NAD+ IV treatments helped me feel like my old self again. I now have more energy, clearer cognitive thinking and motivation to get back on track with eating clean and regular exercise to feel healthy and vibrant again."
Rachel W.
IV Therapy can be used to treat a wide range of illnesses and conditions. Apply your membership discount to any IV therapy and add-on!
Immune System Booster
Great for helping boost your immune system when you're beginning to feel a little under the weather.
Includes:
• Vitamin C
• Zinc
• Glutathione

Regular Price: $184
Book Online
The Myers' Cocktail
For wellness and detox, this helps with multiple medical conditions, including asthma, migraines, and fatigue.
Includes:
• Low-Dose Vitamin C
• B-Complex
• Magnesium and Calcium

High Dose: $174
Low Dose: $159
Book Online
High Stress Therapy
This is the same cocktail as the Original Myers, with higher doses of vitamins and nutrients, fortified with zinc.
Includes:
• Vitamin C
• B-Complex
• Magnesium and Calcium

Regular Price: $174
Book Online
Weight Loss Support
If you're feeling a little lethargic after reducing your caloric intake, we've got the perfect combination for you.
Includes:
• L-Carnitine
• Taurine
• Chromium and B12

Regular Price: $186
Book Online
Athletic Performance
Looking for something to increase energy and stamina during training? This therapy is just what the coach ordered.
Includes:
• Amino Acids
• Vitamin C
• Taurine

Regular Price: $187
Book Online
Pre/Post Surgery
Whether you're about to have surgery or have recently finished getting treated, this therapy is just what you need.
Includes:
• Magnesium and Calcium
• Vitamin C
• Dexpanthenol

Regular Price: $262
Book Online
Exhaustion / Hangover
Did you indulge a bit too much last night? We can help get you hydrated and back on your feet in no time.
Includes:
• Lactated Ringers Fluid
• Ketorolac (Toradol)
• Ondansetron (Zofran)

High Dose: $180
Low Dose: $139
Book Online
Chemotherapy Support*
Studies show that Vitamin C IV can improve quality of life. This is a 3-dose series with at least 24 hours between infusions.
Includes:
• Vitamin C + Hydration
• Vitamin C + Hydration
• Vitamin Infusion


*Blood test required prior to first administration.
Regular Price: $762
Book Online
High Dose Vitamin C*
This time-tested natural treatment helps boost immune function, speeds recovery, and improves quality of life.
Includes:
• High Dose (50g)
• Regular Dose (25g)
• Low Dose (15g)


*Blood test required prior to first administration.
High Dose: $379
Regular Dose: $269
Low Dose: $212
Book Online
NAD+ Support
Let NAD+ therapy help you achieve the energy, cognition, and longevity you desire. Stronger cells, stronger you.
Includes:
• High Dose (750mg)
• Regular Dose (500mg)
• Low Dose (250mg)

High Dose: $750
Regular Dose: $500
Low Dose: $250
Book Online
Add-Ons
With all of our IV therapies, we offer the following add-ons:
Glutathione 1000mg ($30) | Glutathione 2000mg ($45) | N-Acetyl Cysteine ($30) | B12 1000mcg ($20) | Glutathione and B12 Combo ($45) | Taurine ($35) | Trace Elements ($50) | Zinc ($20) | Ketorolac/Toradol ($25) | Zofran ($25)
If you're not sure which therapy is right for you, please book a free consultation. We're happy to answer any questions.
Please be aware that if you have any pre-existing heart and or kidney conditions, fluid restrictions, or G6PD deficiency, a free 15 min consult will need to be made with our provider before your IV appointment.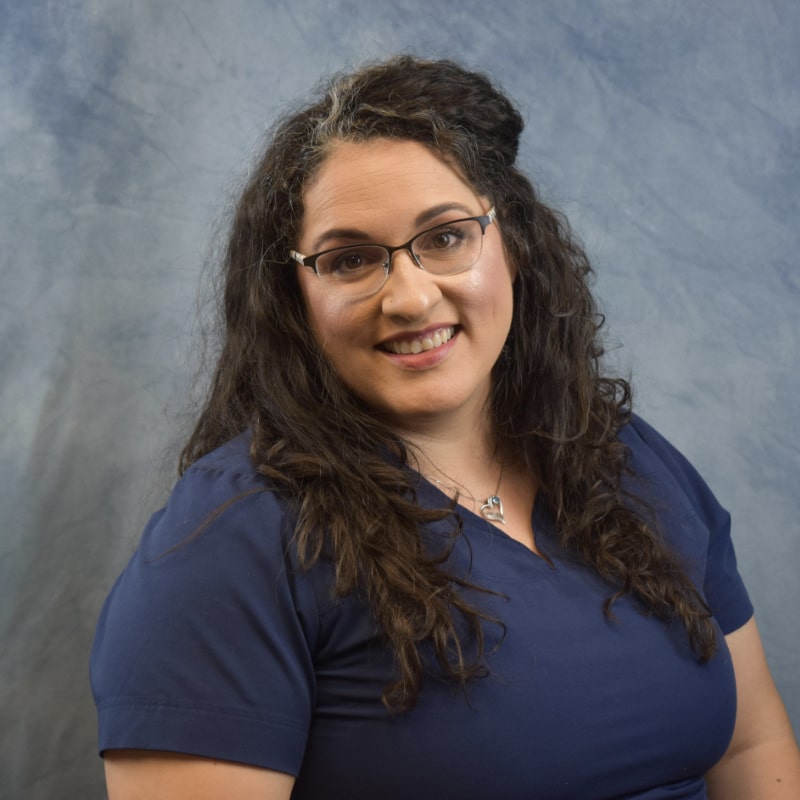 Miriam Levering, DNP
Family Nurse Practitioner
Dr. Miriam's path into medicine began out of a love for connecting with and caring for people. Her mission is to offer her patients a wellness-oriented approach to care that focuses on personalized and preventive medicine.
Learn More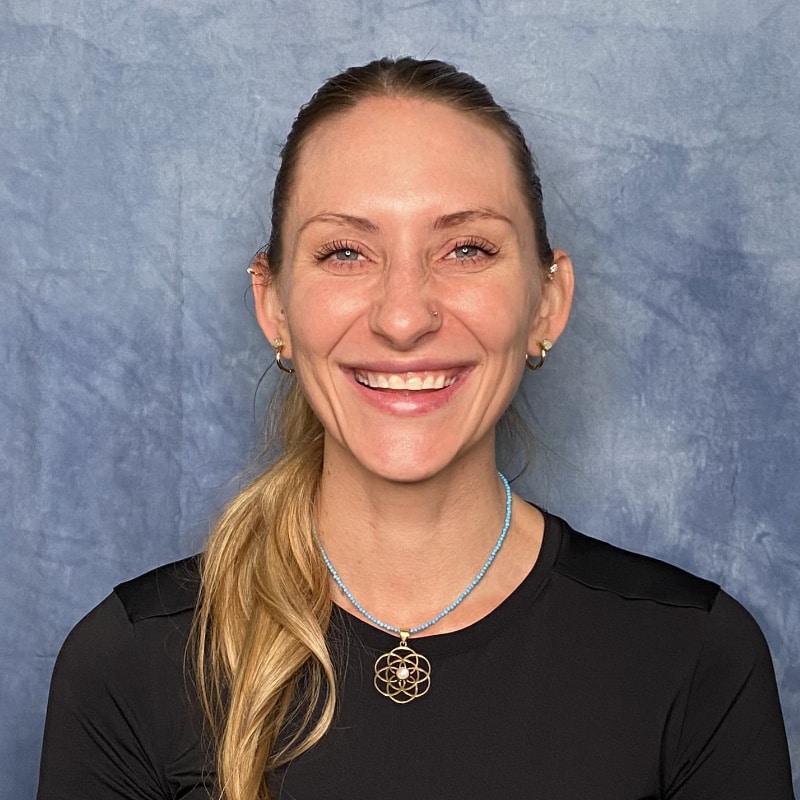 Sierra Peña
Registered Nurse
Sierra believes the key to overall health and wellness is dependent on a positive mind-body connection. She hopes to promote a connection of self-awareness, self-confidence, and self-love.
Learn More
What Our Clients Are Saying
"Healing House is amazing! Sierra has been doing my IV's this year and I feel much better afterwards. It's a calming and healing environment. Highly recommend!"
Mac M.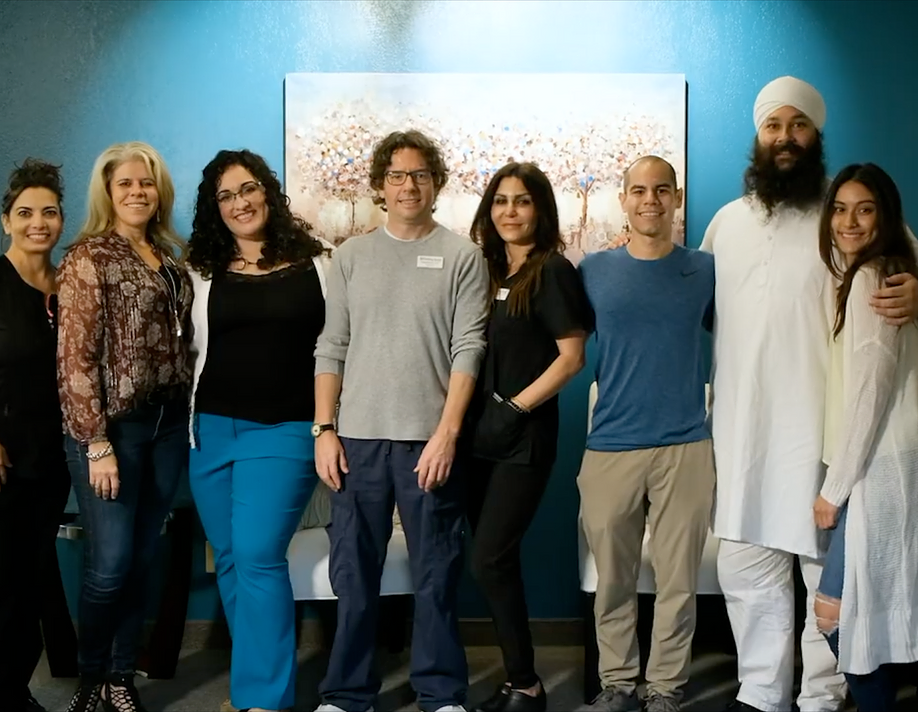 As well as our wide range of IV therapies, Healing House offers you ​a complete suite of holistic healthcare practitioners, including:
Primary Care Nurse Practitioner
Licensed Aesthetician
Professional Counselor
Licensed Acupuncturist
Meditation Coach
Nutrition Coach